Hayrides in Florida
Sugarcane, tomatoes, and watermelons are just some of the crops that Florida's farms are known for producing. When the sun sets and farmers retire to their homes for the evenings, many of them are not aware of the horrifying creatures that emerge from their fields. Fortunately for Floridians, some of the farmers that know of the terrors are more than happy to welcome unsuspecting visitors to their fields and nearby forests during the autumn months. Visitors won't just be touring the area on feet, though, as a Haunted Hayride is the best way to enjoy a spooktacular evening and see all of the most sinister entities that lurk in the night.
---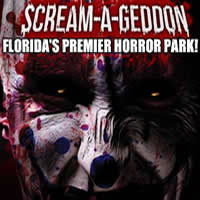 Scream-A-Geddon
Dade City, FL
Tampa Florida's newest haunt experience will feature 6 terrifying attractions in 1 location!... Read More
---
---
From the Atlantic Ocean to the Gulf of Mexico, Jacksonville to Miami, Florida is no stranger to variety. To ensure that you know where all of the state's best haunted attractions are located, we have updated our interactive map with Haunted Houses, Yard Haunts, and more. Regardless of whether you're looking for attractions in your city or thinking about planning a road trip, your next horror experience is waiting to be discovered.