Trails in Florida
Weaving through forests, graveyards, and any number of other hair-raising settings, Haunted Trails are sure to lead you on a terrifying journey that you won't forget. With werewolf sightings in Fort Lauderdale and demonic clowns in Orlando, there is nowhere to hide from the monsters that are straight out of the worst night terrors one could imagine. Illuminated only by the full moon and featuring all of these monsters and more, Florida's Haunted Trails provide some of the season's truly unmissable experiences. After you gather some friends or family members, you're going to need to then gather the courage to not run from the entrance of these attractions.
---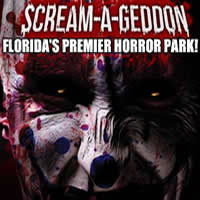 Scream-A-Geddon
Dade City, FL
Tampa Florida's newest haunt experience will feature 6 terrifying attractions in 1 location!... Read More
---
---
From the Atlantic Ocean to the Gulf of Mexico, Jacksonville to Miami, Florida is no stranger to variety. To ensure that you know where all of the state's best haunted attractions are located, we have updated our interactive map with Haunted Houses, Yard Haunts, and more. Regardless of whether you're looking for attractions in your city or thinking about planning a road trip, your next horror experience is waiting to be discovered.